Parent-Carer Group
At Springside we strongly believe that in order for each learner to succeed there needs to be a good partnership with parents/carers. We pride ourselves in working with our families.
We run two parent-carer groups on a weekly basis, one morning session and one afternoon session. Each half-term a different service/professional is invited to attend, enabling our families to gain an insight to the support on offer, develop their knowledge and understanding on a variety of topics related to children with Special Educational Needs and Disabilities (SEND) and to provide a platform for discussion with a peer support network. View the table below to find out about our parent-carer groups for this half-term. On the right-hand side of this page you will also find a blog providing an overview of each parent-carer event, 'View Our Meetings.'
We continue to offer termly 'Headteacher Drop In' session for parents to meet with Melody to discuss your thoughts.
We also hold regular events which parents are invited to alongside our stay, play and learn sessions.
Please read the 'Working in Partnership with Parents' leaflet to provide you with an overview of what you can expect from the staff team at Springside.
Please check this website, our social media platforms and specifically the Parent's/ Carer's calendar to view upcoming events.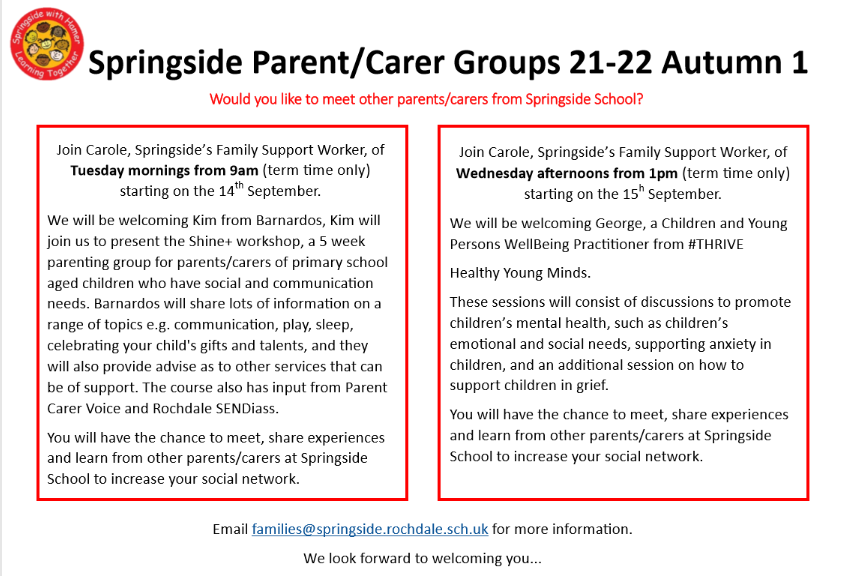 For further details please contact Shazye Cosar, our Pastoral Officer at school on either:
Telephone: 01706 764451
Email: scosar@springside.rochdale.sch.uk
Contact our Family Support Worker, Carole Kelly:
Telephone 01706 764451
Email: Families@springside.rochdale.sch.uk
---